Hey Siri, when's the next train?
Earlier today I posted a tweet showing off a little shortcut I've made for Siri that can easily tell me when the next train departs a station. A few Twitterers have asked for a copy of the shortcut so I thought I'd better write a quick post about it. Here's the tweet with the example:
We're just asking Siri "When's the next train?" and she'll reply to say how many minutes until the next train departs a known station. My use case for this is so we can easily find out when a train will pass by our house - our son enjoys seeing the trains and waving to the drivers from the bridge and combining trains with a walk works well. This just tell us when we need to leave the house.
All the hard work happens well away from Siri and the Mac ecosystem using a combination of the Realtime Trains data and a little web service I've written that looks up the right information and composes some sentences for Siri to say.
---
Setting up an iOS Shortcut for Siri
These instructions outline how to set up a shortcut using iOS 13+. If you're using a different version of iOS, your mileage may vary!
You'll need to install the Shortcuts app from the App Store.
Press the Create Shortcut button to create a new shortcut.
Press Add Action and search for Get Contents from URL and add this.
For the URL enter https://trains.adam.ac/next/STATION. You should replace STATION with the code for your station - you can find this by going to Realtime Trains and searching for it - you'll see the code in the drop down search box. For example, for London Waterloo you would have WAT.
Press the blue + button to add another action. This time search for Show Result and add this.
You can now press the play (triangle) button to test your action and ensure that a message pops up with the text. Siri will speak the contents of this alert box if you ask her.
Save the shortcut and enter a name such as When's the next train?
You should have a shortcut that looks a bit like this: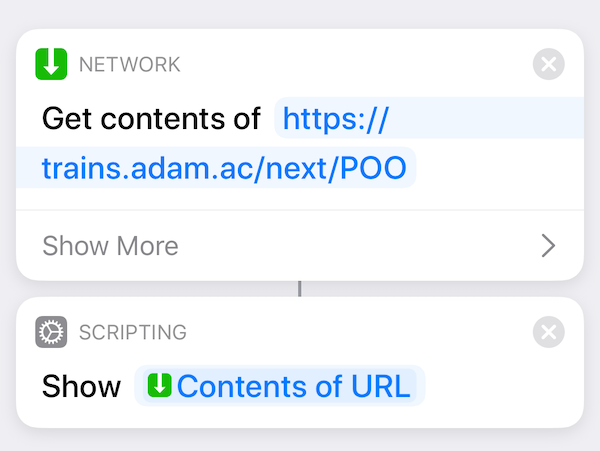 To use this on a HomePod, make sure that you have enabled Personal Requests.
---
At the moment, I don't have access to the detailed API from Realtime Trains so the data isn't being pulled in the best way possible - if anyone from RTT happens to be passing, if you could hook me up with the detailed API access, that'd be lovely! 😘
If you have any questions, just @ me on Twitter.